---

English

COOKING HOUSE

Where Delicious Food Cheers You Up

We hope to enjoy life together in our town.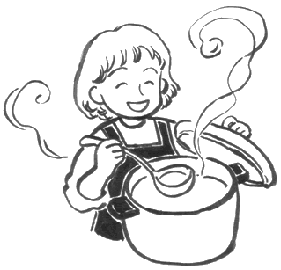 Cooking House

Office: Fuda 1 chome 21-9, Chofu city, Tokyo JAPAN

Tel/Fax

International: 81-424-84-4103

Domestic: 0424-84-4103

Home page: http://www.ne.jp/asahi/cookinghouse/1/

email: cookinghouse@asahi-net.email.ne.jp

<Idea and History of Cooking House>

Representative of Cooking House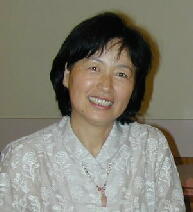 Sachiko Matsuura

Places Where Mental Illness People Come to Relax, Refresh and Regain Courage to Live

With or without mental illness, let's live together with smile on our face.

Anyone, everyone once in awhile, has a day or two in their lives, when they feel sick and
tired physically and/or mentally. When that happens, you may want to have a place where
you can rest and refresh without any pressure. Or you may want someone who accepts you
as you are and tell you that you are loved and cared. It also helps if there are programs to
regain your self-confidence and find your own possibilities in life, so that you will have
courage to live.

Established in 1987, "Cooking House" has tried to realize these dreams for the people
with mental illness. For the sake of living not lonely for them, we opened a gathering place
where they can come to have fun of cooking and eating together while mixing with one
another. The Japanese psychiatric healthcare at the time was focused solely on
institutionalized care and was far behind what was required. For them to have community
life just like everyone else, it was/is necessary such places that they can be supported to
have a rest and to step up their ability for communication.

"Cooking House" is a small space, but has made steady progress to help the people with
mental illness open their mind and regain self-confidence. In a supportive environment,
cooking together and enjoying meals and chat, they were getting gradually open minded and
cheerful. By supporting them like these, there have been fewer cases of recurrences.

In 1992, when Cooking House was five years old, "Brown Rice Restaurant" was opened to
increase the opportunity for them to participate in the community life. As it has served
safe, healthy and delicious food it helped us gain favorable reputation. People call it a "
Fantastic Restaurant" where they can have mental consultation as well as good food.

In 1997, we opened the third place as a branch of Cooking House. Cooking House became
to something very special and important for a number of mentally illness people and their
families, where they can gather and mix with others with similar experiences.

There are still a large number of people with mental illness in this country who are
isolated from the community and having an uncomfortable life. Cooking House has become a
hope for them. It has been considered as a good example of founding such places for them.

To commemorate the fifteenth anniversary of Cooking House, on December 14, 2002, we
had a concert called "We Are Not Alone". Until that time our members wrote their own
songs and recorded them on CD to express their happiness. It is important in itself for them
to live a positive life, and it also helps improve the recognition for them in the society.

Fifteen years ago, Cooking House begun in a small room, and ever since Cooking House
has been transmitting the culture of welfare to the public.

Now it is time for us to communicate in the world.

Leading Ideas of Cooking House

1.Place where a member can be oneself free of worries

2.Activities in which each member feels useful to others

3.Place to create the new culture of welfare from the minority view point

4.Place open to citizen exchange

HISTORY

1987 Cooking House founded

1990 Received grants from Tokyo Metropolitan Government and Chofu Municipal Office

1992 Brown Rice Restaurant opened

1995 Cooking House the Second opened

1996 Received grants for the Second from Tokyo Metropolitan Government and Chofu

Municipal Office.

1997 The tenth anniversary

Published books " Fantastic Restaurant"

1998 Cooking House the Third opened

Received grants for the Third from Tokyo Metropolitan Government and Chofu

Municipal Office

Received Kiwanis Award

2000 Exhibition "Painting Make Life Happier" held

2002 The fifteenth anniversary

Published books "Sequel Fantastic Restaurant"

Published books with music CD "We are not alone"

- - - - - - - - - - - - - - - - - - - - - - - - - - - - - - - - - - - - - - - - - - - - - - - -

Three Places of Cooking House and Activities

Fantastic Tearoom (The First Cooking House)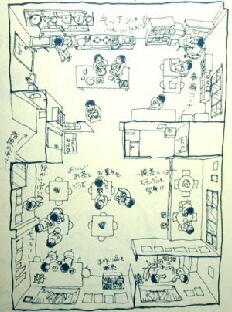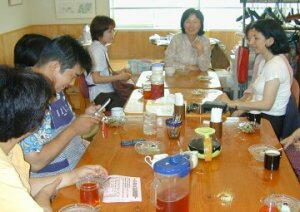 Cafe
Open: 1:00 p.m. to 4:00 p.m., Monday through Friday except Wednesday

Cake of the day with a drink-\480.

Japanese cake of the day with a drink-\480

Programs
> Word Processing work

> Cleaning work in a nearby park (Monday morning)

> Handicraft workshop (Wednesday and Thursday)

> SST (Social Skills Training) (1 p.m. to 2 p.m., Wednesday)

> Tea time (Everyday)
Brown Rice Restaurant (The Second Cooking House)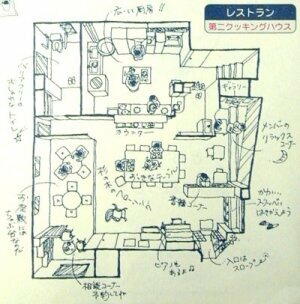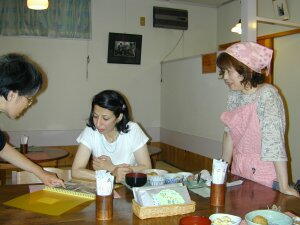 Restaurant :

Open: 11 a.m. to 2:30 p.m. (Lunch)

2 p.m. to 3:00 p.m. (Tea)

Monday through Friday

Lunch set of the day-\1,000.

Handmade cake-\200 (Very popular, Sold out soon!)

Drink-\250

Meal delivery service available

Programs:

> Meeting (Every day)

> SST (Social Skills Training-2 p.m. to 3:30 p.m., Friday)

> Chinese style relaxation

> Cooking Band Music Time (Tuesday)

> Workshops of Natural Vegetable Dying and Homemade Foods
Cooking Star (The Third Cooking House)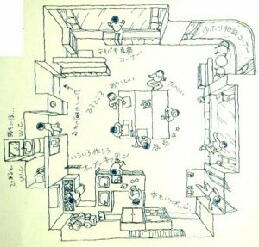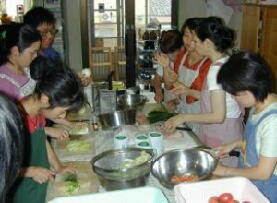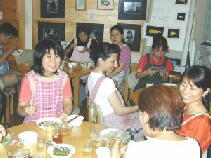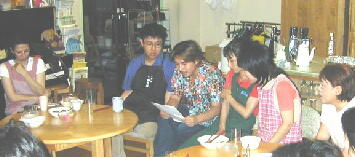 Open: Tuesday through Saturday 12 a.m. to 8:00 p.m.

Programs:
> Evening dinner-\500―(everyday)

> SST (Social Skills Training

-6:30 p.m. to 7:30 p.m., Tuesday)

> Family Social Skills Training course

-once a month

> Meeting where everything is discussed

-6:30 p.m. to 7:30 p.m., Friday

Monthly Programs:
> Kimiko Method Painting

-2 p.m. to 4 p.m., Wednesday

> Clubhouse Study-2 p.m. to 4 p.m.

Others
> Music workshop

> Working support

> Psychodrama

> Consultation room

> Open House for visitors

> Open Lectures on Psychiatric Welfare

> Cherry Blossom Viewing, Christmas Party,

New Year's Day Party, Bazaar

> Excursion, travelling, sports, etc.

Consultation for citizens
1 p.m. to 4 p.m., Friday and Saturday,

\3,000/hour.
YOU CAN SUPPORT US!
1)Every supporting member receives a bimonthly newsletter titled "Greetings from Cooking
House", and is invited to have a complimentary Healthy Cake Set at Cooking House.

2)Supporting membership annual fees:

Regular membership---\5,000.-

Associate membership---\3,000.-

Please contact us by email.
[BOOKS]
*FUSIGINA RESUTORAN (Fantastic Restaurant)-we want to live in this town with people

with mental illness, by MATSUURA Sachiko, Kyoikushiryo Shuppankai, \1,575.

*IKUTSUNI NATTEMO YUMEO EGAKITAI (How Old you are, You can Paint Dreams), by

MATSUURA Sachiko, Kyoikushiryo Shuppankai, \1,890.

*WATASHITACHINO GENKI PAWAWO TODOKEMASU (Here is our cheerful energy)-A

Report from Cooking House, edited and published by Cooking House, \1,000.

[VIDEO]
*OISIINE kara YUME to KIBO ga HIROGATTA (Our Dream and Hope were Grown from

Cooking and Meal)-Activities at Cooking House, 40 minutes on VHS format, \3,000.

[CD]
HEINAYO//KIMIWA HITORIBOCCHIJA NAI (Don't Cry//You Are Not Alone), \3,800.
<<Back(to Japanesepage)